Ultra Street Fighter II: The Final Challengers Released!
After the Nintendo Switch launch event in January, a surprising announcement came from Capcom to release Ultra Street Fighter II: The Final Challengers exclusively for Nintendo Switch.
Packed with plenty of new and exciting features as well as it's original flare, Ultra Street Fighter II will be an updated version of Super Street fighter II 1993. Similar to Mario Kart 8 Deluxe, this game will be pretty much unlocked from the get go with 19 playable characters including Akuma.
This game was an obvious choice for the Nintendo Switch since you can use two controllers on the go, Ultra Street Fighter II: The Final Challengers is an arcade style fighting game with enhanced controller options for single and multiplayer as well as online.
Way of the Hado is a fun first person motion controller format where you fight using the joy-con to throw down some real-life Hadokens and other special moves, but with juiced up special moves and move mapping, updated graphics and both new and original music, the fun can be found in the original style game modes: Arcade, Buddy Battle and Versus.
Special moves have b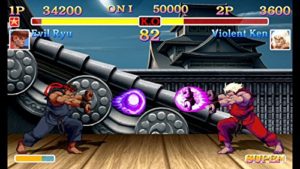 een beefed up and you can easily learn all of them from the start menu in arcade, or even map them to amp up your game. For the more serious players it might be worth going for the Switch Pro controller which seriously improves the competitive level of the game.
This is the latest release of Street Fighter since 2008 and it holds many eccentricities and treasures for the fans of arcade-style fighting games such as a colour editor for characters, super hi-resolution art and illustrations from the original Street Fighter cartoon series,all the tracks from the music player to flick through as you wish and superb replays.
This fantastic update of an arcade classic will be exclusively for Nintendo Switch and you can get your hands on it here for just £34.99 RRP.