Everybody's Golf Makes a Return
Everybody's Golf is back, due August 4.  This will be the first in the series specifically for PlayStation 4.  An absolute classic for fans of  the original PlayStation era, along with open interactivity for the modern feel.

The game boasts open course and nine-hole open course play modes which you can play online with a completely idealised avatar of yourself. You can even see other players in the game enjoy roaming around in free mode where you can catch some fish or explore the course in your golf cart.
Don't expect to have to be worrying about grass types or wind condition with this one, Everybody's Golf is more of a Sega style game where you simply aim and set the power to swing, but the maps will look awesome and  the courses are rumoured to be pretty tricky.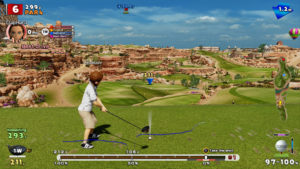 Online mode will be robust and with the freedom to run around and enjoy new features like buggy racing and treasure hunting in the open-world, Everybody's Golf has a lot to offer, and it's not just golf!